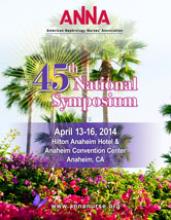 Over 800 nephrology professionals gathered in Anaheim for ANNA's 45th National Symposium. Held April 13-16 at the Anaheim Convention Center, the program featured an exciting program full of educational and networking opportunities.
Symposium Photo Gallery
Congratulations!
Congratulations to the many award, scholarship, and grant winners who were recognized at the symposium:
Symposium CNE Evaluation Process
Attendees, please note that you must complete the evaluation process in the Online Library by May 30, 2014, in order to redeem your contact hours for this meeting.