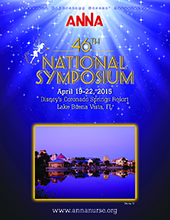 ANNA's 45th National Symposium will be held April 19-22, 2015, at Disney's Coronado Springs Resort in Orlando, FL. Plan now to share in the magic!
Program Preview
Featured Speakers

Janel Parker Memorial Opening Session (Sunday, April 19)
Bernadette Melnyk, PhD, RN, CPNP/PMHNP, FNAP, FAAN
Associate Vice President for Health Promotion
University Chief Wellness Officer
Dean, College of Nursing
Ohio State University

The Wearable Artificial Kidney: Present and Future (Wednesday, April 22)
Victor Gura, MD, FASN
Attending Physician
Cedars Sinai Medical Center
Associate Clinical Professor of Medicine
David Geffen School of Medicine at UCLA
Educational Program
7 Preconference Workshops (full- & half-day programs)
Concurrent Sessions identified by subspecialty content
Abstract and Poster Presentations
Specialty Practice Networking Sessions
Postconference Workshop: Pharmacology Update
Networking & Fun!
Evening off to enjoy Disney with your friends! – FREE Disney theme park ticket for full symposium registrants (watch for details)
Exhibit Hall Grand Opening Reception
Nephrology Nurse Recognition Lunch
Healthy Living / Fitness Walk