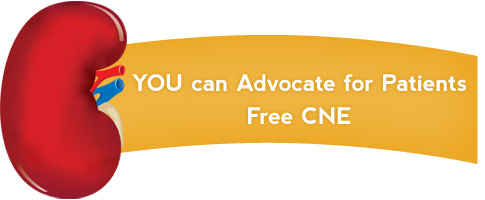 Who knows more about kidney disease than nephrology nurses? Kidney Disease Awareness and Education (KDAE) Week ~ August 4-8, 2014 ~ is dedicated to educating individuals in positions of legislative influence who may not understand how their decisions impact our profession and our patients.
For the first time, KDAE Week ideas are presented in webinar format with CNE credit available for free during the month of July! Listen as members of ANNA's Health Policy Committee discuss the impact that YOU can have on the decisions made by Congress and local lawmakers. There are easy ways to voice your opinions and concerns and let legislators know we care about our patients and our profession!
Click here to access this webinar for free!
Note: The content of this session is FREE to anyone! While the CNE credit is free to ANNA members only during the month of July, anyone can view the webinar to learn how to advocate on behalf of our patients. (CNE credit is $20 for nonmembers.)