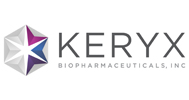 750 Lexington Avenue
20th Floor
New York, NY 10022
Telephone: 212-531-5965
Website: www.keryx.com

Keryx Biopharmaceuticals is focused on the acquisition, development, and commercialization of medically important pharmaceutical products for the treatment of renal disease. Keryx is currently developing KRX-0502, an investigational, ferric citrate, oral compound that binds to phosphate. A New Drug Application (NDA) has been filed with the FDA and assigned a Prescription Drug User Fee Act (PDUFA) goal date of June 7, 2014. A Marketing Authorization Application (MAA) submission with the European Medicines Agency (EMA) is forthcoming. In addition, Keryx's Japanese partner, Japan Tobacco Inc. (JTI) has received manufacturing and marketing approval of ferric citrate from the Japanese Ministry of Health, Labour and Welfare. Ferric citrate, to be marketed in Japan by JTI's subsidiary, Torii Pharmaceutical Co., Ltd., under the brand name Riona®, is indicated in Japan as an oral treatment for the improvement of hyperphosphatemia in patients with chronic kidney disease (CKD).