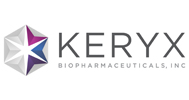 750 Lexington Avenue
20th Floor
New York, NY 10022
Telephone: 212-531-5965
Website: www.keryx.com

Keryx Biopharmaceuticals is focused on the acquisition, development and commercialization of medically important pharmaceutical products for the treatment of renal disease. Keryx is developing Zerenex™ (ferric citrate), an oral, ferric iron-based compound that has the capacity to bind to phosphate and form non-absorbable complexes. The Phase 3 clinical program of Zerenex™ for the treatment of hyperphosphatemia (elevated phosphate levels) in patients with end-stage renal disease is being conducted pursuant to a Special Protocol Assessment (SPA) agreement with the FDA. Keryx is headquartered in New York City.

Keryx Biopharmaceuticals is traded on the Nasdaq Stock Market under the symbol "KERX."